Description
The Yeti ARC has been tested through time by numerous professionals and amateurs, it had earned it's reputation through the sheer amount of use and results.  To meet expectations, the ARC has been revamped to adhere to modern standards, becoming the most versatile in Yeti's range, offering instant-feedback from the rear end and a slack geometry that places you at the core.
Take it to your favourite singletrack trail, or rush around the local pump track, the frame will offer compliance/stiffness all the way through, keeping you excited and entertained.  Alternatively, load it up with your bikepacking gear, throw a bottle of water under the downtube and experience the thrills of nature at a slower pace.
The frameset can be purchased individually or as a custom-build, we are more than happy to arrange this in-house using components from our selected suppliers.  If you're interested in placing a pre-order, drop us an email at sales@performancecycles.co.uk or call us on 01285 851946.
*Image representative of frameset colour, the additional parts shown are not included.
Size Guide/Geometry: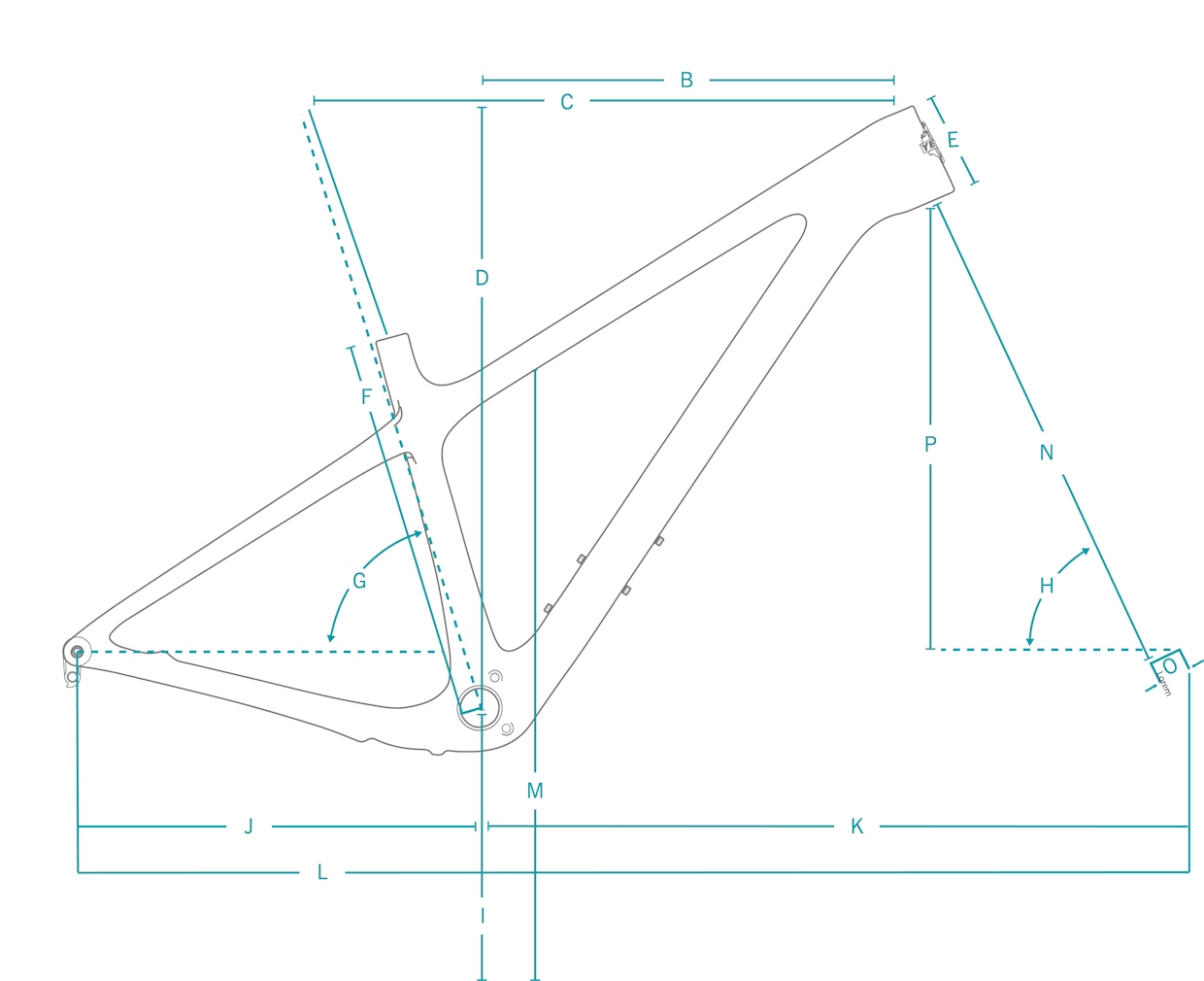 SM
MD
LG
XL

A

WHEEL SIZE

740.0

740.0

740.0

740.0

B

REACH

420.0

445.0

465.0

490.0

C

EFFECTIVE TOP TUBE LENGTH

577.4

604.3

626.0

653.4

D

STACK

631.7

638.9

645.1

654.3

E

HEADTUBE LENGTH

95.0

102.9

109.6

119.6

F

SEAT TUBE LENGTH

380.0

410.0

450.0

495.0

G

EFF. SEAT TUBE ANGLE

76.0

76.0

76.0

76.0

H

HEADTUBE ANGLE

67.0

67.0

67.0

67.0

I

ESTIMATED BB HEIGHT

310.0

310.0

310.0

310.0

J

CHAINSTAY LENGTH

433.0

433.0

433.0

433.0

K

FRONT CENTER

710.5

738.5

761.2

790.1

L

WHEELBASE

1143.5

1171.5

1194.2

1223.1

M

STANDOVER

723.0

722.0

720.0

720.0

N

AXLE TO CROWN

543.7

543.7

543.7

543.7

O

OFFSET

44.0

44.0

44.0

44.0

P

VERTICAL FORK TRAVEL

119.7

119.7

119.7

119.7